Window Cills
Our window cills, or sills, come in two main types. The use of different types of window cill is dependent on the type of wall, the type of window frame and, importantly, personal preference. Our two main types of cast stone cill are known as stooled cills and slip cills. See the further information
window cills.pdf for guidance on ordering our window cills.
Choices of window cill
Stooled cills

Stooled cills are used when the wall is brickwork or when side jambs are being used, such as in traditional mullion window surrounds. The purpose of the stooling is to give a flat level surface for the brickwork to sit on. If there were no stooling, a large unsightly joint would be required to accommodate for the slope on the cill. This cill may be made to sit flush with the wall or, more usually, have an overhang of approximately 50mm. A drip groove is cast in as standard.
Slip Cills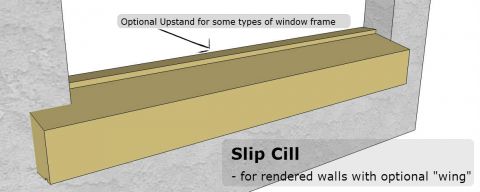 Slip cills have no stooling. They sit inside the window opening and are usually used when the wall is to be rendered, with the render coming right down to the cill. They can be made to be built into the wall as it is constructed, or to fit into a gap left especially for them. The slip cill will project approximately 50mm from the front of the wall and incorporates a drip groove as standard.
Threshold Cills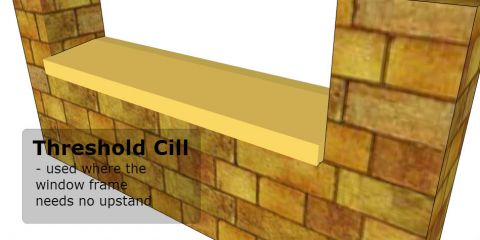 Similar to Slip Cills, but with no upstand on the back edge. These can be used if the window frame fixing method doen't need the upstand. They can also be used as a band course around a house.
The window frame itself can have an effect on which type of cill should be used, but the majority of frames may be used with either slip or stooled cills. Thorverton Stone window cills may be used with most types of frame, but should you have a special requirement, just let us know and we will be happy to help.
Contact us for a free, no obligation quote.